Farrier School
So after making the decision to

become a farrier

you've decided that you want to start your career off on the right track by going to farrier school. Now you may be asking, just what is the best school for me? What should I look out for? Like any big decision there's a number of issues to consider. We've listed the basic points that you want to think about below when making your decision, from general to specific. The next page of the Education Guide, "

Questions to Ask School

," goes into more detail about the specific things you should look out for, framed as questions for you to ask school staff and students.
Cost
As always, cost is a major determinant for most people when deciding on a school. Figure out what your school tuition and living expense budget is. Then look through our

school listings

to find the right school within your budget.
Location
Are you willing to relocate if there's no school nearby? If so, how much will living expenses cost? Figure out if these costs work within your budget. And if not, can you commute? Do you want to use your schooling as an opportunity to travel? There are farrier schools worldwide, but learning the trade in one country and working in another could be a problem (i.e. the UK demands farriers get certified, so going to school in the U.S. and then trying to work in the UK is an issue).
Size
Do you prefer learning in a large institution, such as a college, a less formal school, or one-on-one? Colleges and universities offer advantages in that they offer many programs and could open up diverse connections through the many people you meet, but have larger class sizes than less formal schools, which provide a smaller learning environment and closer connections to staff.
Personal connection
Have you ever met a farrier that you resonate with? Getting a personal referral to a school from someone you trust is a great thing because, by extension, you'll be more likely to trust that school yourself and the people who work there. Also, if you have friends or family that attend (or have attended) a horseshoeing school, you'll probably feel more comfortable going there yourself.
Curriculum
Farrier education varies dramatically between workshops that are measured in days and college programs that are measured in years, which means the quantity and quality of education delivered will vary greatly. It's worth thinking about how long some programs are and what material they offer. If a short program tries to cover all the same things as a much longer program then it really gets you thinking if everything will be covered fully.
A good starting point is to look at the course curriculums for different schools and comparing them. Most schools include their curriculums on their websites or in brochures. If not, contact them and ask. Browse through our
school directory
to find links to the school websites.
Quality and type of education
The point of going to a farrier school is that you will have the skills and confidence to do the job on your own once you graduate. For that reason it's essential to find out how much hands-on training you get. Do you get to shoe live horses or not? Will you learn corrective shoeing? Find out what horses you will get to work on and where they come from. If you have to drive around to different sites it will cut significantly into your day.
Instructors
A school is only as good as its instructors. Teaching is a difficult profession that requires passion, enthusiasm and a lot of energy. Teachers often don't receive the respect they deserve and, unfortunately, some get discouraged from the day-to-day grind so they don't have the same kind of passion to serve their students that others do. The Farrier Guide encourages you to thoroughly read through the

school listings

and

interviews

to get a sense of the schools/instructors that you click with. It's also worth finding out how experienced the instructors are. Some schools use student instructors whereas others have only one experienced instructor who does all the teaching.
Visiting the school
A lot can be read into a school through a detailed listing or into a person through their words, but it's always best to check out a school in person. If at all possible, narrow down your list to your top few choices, schedule a meeting (preferably during class time), then go visit them. On your visit, observe the school: its instructors at work, students, school, equipment, accommodations, etc. Arm yourself with some questions that will help you determine whether the school is a right fit for you, then feel free to ask the school staff.
Also, ask some students (preferably current, though alumni would be good sources as well) what their experience with the school is/was like. If there are no students around when you go (or you can't physically make it there) get some references from the school, then call them up. Read the next page, "Questions to ask" to get some ideas on what to ask school staff and student references when you speak to them.
After doing all this research, you may find that you're unable to attend school or that school just isn't right for you. If that's the case, don't let it dash your hopes of becoming a farrier. Read our alternative
farrier training
page for other ideas on learning farriery.
___________________________________________________________________
Is farriery right for you?
Four hours of farriery is equivalent to eight hours of hard construction work, so you have to know whether you're up for the job. You also have to realize that this job brings danger since even friendly horses can be spooked. So if you're working closely with horses, you better know what you're doing!
For this reason, Emsley suggests asking a farrier if he or she can let you shadow them and help out with some basics of the farrier trade. Doing this will give you a good feel for what a typical day as a farrier is like. The initial months, year or even more will take a lot of adjustment as your body gets used to the physical work and new body positions that you're working in.
Different paths to become a farrier
Since farriery has become a more specialized trade than in years past, there's more reason than ever to take the time to get quality experience before working as a farrier. Since it's a hands-on job, experience is paramount. That initial experience is typically gained either through school or through an apprenticeship.
Farrier school
Horseshoeing School
Kentucky Horseshoeing School
S
ituated on 40 acres of rolling pasture, the new Kentucky Horseshoeing School exceeds all expectations. The new, premier facilities, including 23,000 square feet of modern classrooms, shops and instructional areas along with beautiful energy efficient modular dormitory, Kentucky Horseshoeing School has become one of the most cutting edge farrier education facilities operating today.
Founded in 1978, the Kentucky Horseshoeing School has continually focused on primary and continuing education, drawing upon the best of traditional practices as well as the newest research to become the premiere farrier education center in North America. Our instruction focuses upon understanding balanced shoeing through a combination of intense anatomy, physiology and biomechanical training as well as practical work.
Our curriculum, our staff, and our facilities continually evolve to reflect state-of-the-art shoeing methods and materials as well as the latest insights into balanced shoeing. Both working professional farriers and KHS students benefit from our educational programs, designed to provide the farrier community with a thorough understanding of the current techniques and the latest skills required for providing hoof and leg health.
Throughout North America and around the world, you will find KHS graduates working at the top of the farrier industry, shoeing world champions of all breeds and providing leadership within the farrier and equine communities. Whether you are a Veteran of the United States Military, a recent High School graduate, or something in between—the Kentucky Horseshoeing School will put you on the road to your own personal success as a quality horseshoer.
Committed to advancing the farrier's craft and the heritage it was built upon, the Kentucky Horseshoeing School's goal is to educate our students to be the very best entry-level farriers in the country.
You can view facility photos in our
Gallery
; however, no photo can adequately depict the scale and function of our new campus so stop by and see it for yourself. We are open Monday-Friday from 9am - 5pm.
___________________________________________________________________
How to Choose a Horseshoeing School
A professional facility that demonstrates our commitment to professional farrier training.
School Location: Don't pick a school based on location, pick a school based upon curriculum. You wouldn't marry someone just because they lived next door, close and convenient. Why use that criteria to pick a school?
Instructors: Our instructors are or have been full time professional farriers. They have years of experience running a business and supporting their families by shoeing horses. They will teach you more than just nailing steel on the bottom of horse's feet.
Availability to practice: If you are going to be away from home to learn the art of horseshoeing you need the opportunity to practice after school and on weekends. The best way to get good is to practice and you have to be provided with the opportunity. At PCHS the forge area is open from 7am to 8pm, seven days a week. The classroom with video and book library is open 24 hours a day, seven days a week.
Classes: Students start and graduate as a class. No "new guys" entering every week that would require us to stop teaching you to review old material for them. All lectures, demonstrations and shoeings are a smooth progression, one building upon the other, toward producing a professional farrier.
Horses: PCHS does not bring in rank, ill-mannered, dangerous horses for students to shoe. You can not learn how to balance a moving foot! Make sure the horses you work on at the school are going to be the same type of horses you plan on shoeing when you go home. Students need good quality horses that allow them to practice professional skills. The opportunity to shoe 10 horses per day means nothing if you can't shoe any of them because they are dangerous.
Consumer protection: We are so confident of our teaching ability and our professional facility that we offer a 100% refund to any student who withdraws from the program, for any reason, on or before the end of the first week of training. Get that in writing from any other school!
___________________________________________________________________
Farrier Training
Farrier Foundation Course
Interested in becoming a farrier? Need to better understand what a farrier does before deciding it is the right profession for you?
Or do you want to learn how to take care of your own horse's feet?
We saw a need to help people who want to learn more about horses, horse care and horse hoof care, in particular. So, we made a first-ever, on-line course for those who love horses and want to work with them. Our course helps those who are thinking about becoming farriers or who want to look after their own horses. Now, prospective farrier students can begin learning at home before attending a farrier school. This course adds to your future success as a farrier.
You can find more details on our new website
www.farrierfoundation.com
and how this course can help you get started. If you click on the link below it will take you to the website where a video describes what is included within the course and gives you an overview.
www.farrierfoundation.com/farrierfoundationcourse
Professional Farrier Skills Training for All Levels
Butler Professional Farrier School offers a world-class learning experience like none other. Using a proven curriculum based on the four-level learning matrix explained in The Principles of Horseshoeing (P3), experienced instructors teach students the skills and techniques necessary for success in the farrier business.
From basic horseshoeing classes to advanced and graduate-level training, Butler Professional Farrier School provides the most value for students' educational investment available today. To download an application and to see our course schedule dates go to
www.butlerprofessionalfarrierschool.com
.
Basic 6-Week Horseshoeing Course
This intense 6-week program provides a unique learning opportunity that will jump-start your farrier career. You will have the advantage of being taught, firsthand, by the authors of the most widely used textbook in farrier science. You will receive balanced instruction in all of the skill areas that will make you a competent farrier. These skill areas are shoeing, forging, anatomy, horsemanship, business and public relations. The teachers of this course are committed to helping students with the goal of producing farriers who are qualified to work on sound horses.
Advanced (Specialized) 6-Week Horseshoeing Course
This 6-week course is the exciting follow-up to the Basic 6-week course. This course is also available to farriers who have been practicing at a basic level but would like to increase their skill level. Here, you will have the opportunity to further your knowledge about therapeutic shoeing. You will have the advantage of attending the school with the largest collection of therapeutic horseshoes, foot models and case studies in America. The teachers of this course are committed to helping students advance with the goal of producing farriers who are qualified to do therapeutic work on specialized horses.
Graduate-Level Professional Farrier Skills Training
Graduate-level farrier skills training provides a unique learning opportunity for the serious farrier to advance through various levels of skills development – resulting in expert craftsmanship, increased revenues and a more rewarding career.
Whether you are a certified farrier or an experienced journeyman, Doug Butler's advanced skills training opportunities will help you …
Learn faster with hands-on coaching
Master advanced farrier techniques
Reach your desired skill level
Increase your income significantly
These advanced and graduate-level training programs will teach you the skills you need to excel at all phases of the farrier's craft – from passing the AFA journeyman exam to achieving therapeutic, specialty or other endorsements. In addition to advanced farrier skills development, graduate-level study includes horse and foot structure, function and diseases.
One-on-One Instruction
One-on-one training provides the ultimate learning experience for the serious professional farrier. You will receive undivided attention, hands-on instruction and mentoring with a proven craftsman and educator. Includes skills and career assessment, advance preparation tips, focused instruction, and follow-up consultations.
Small Group Workshops
Designed for small groups of four to six certified or journeymen horseshoers who are in business for themselves, you'll learn advanced farrier skills at these dynamic, concentrated hands-on workshops. Includes advance preparation, syllabus to guide your study, all tools (bring your own hand tools) and other materials.
Workshops at Your Location
Small group workshops can be presented at your location. Often this is the most cost-effective way to provide a larger number of farriers the opportunity for advanced training on selected topics. Workshop content can be arranged based on your group's interests and needs.
Private Consultations
Doug Butler is available for fee-based telephone consultations. He will draw on his resources and experience to help you solve specific horse foot care problems.
Home Study
Individualized home study is recommended only for the self-disciplined student. A specific course of study is based on an assessment of your present skill level, interests and training needs.
___________________________________________________________________
Farrier School

Montana State University Farrier School offers a 16-week program designed specifically for those who wish to pursue careers as farriers. This professional course provides students with the opportunity to obtain a solid background in the field of farrier science through the application of sound principles in a practical hands-on setting. Students will have the opportunity to obtain the knowledge and develop the skills necessary to establish their own practice, qualify for licensing at major race tracks, and prepare for the American Farrier Association Certification exam. Further study in an advanced class is also offered. The Animal and Range Sciences Department at Montana State University sponsors the Farrier Program. The Farrier School, which was established in 1970, receives no state funding and is supported entirely with student fees.

Photo by Kelly Gorham
MSU Farrier School Director & Instructor - Bryce Kawasaki
Bryce Kawasaki graduated from the MSU Horseshoeing School in 1994. After this training he started working with several Certified Journeyman Farriers, including Jerry Kawasaki, Carl Jolliff, and Tom Wolfe. Bryce has had his own farrier business working with his wife, Jenny, for the last fifteen years. In 2000 when Bryce met Bob Marshall his career changed dramatically. Bob has never nailed on a "keg" or factory made shoe. His skill at forging handmade shoes, shoeing horses, and his teaching ability are unprecedented. To this day well over half the shoes that Bryce puts on are made by him in his shop or on the job. Bryce served as president of the Montana Professional Horseshoers Association for six years, and sat on the Board of Directors for the American Farriers Association for those same six years. He has been helping Tom Wolfe out at the Farrier School for ten years. During this time he has conducted a tool making workshop at his forge in Gallatin Gateway, MT. Bryce has also presented week long horseshoeing workshops for practicing farriers looking to improve. Bryce was born and raised in Montana and feels very privileged to have been able to work and live in this great state, and now be able to teach at the MSU Farrier School. Bryce and his wife own several horses and enjoy riding every chance they get, especially getting into the back country.
Professional Course - Now changed to 16 weeks
Fall 2014: August 4 – November 21, 2014
Spring 2015: March 9 – June 26, 2015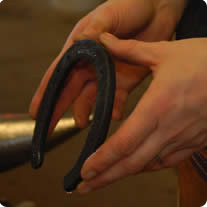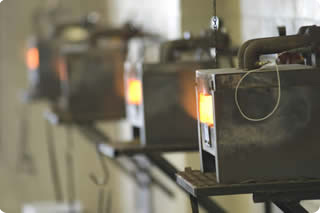 Photos by Kelly Gorham
___________________________________________________________________
Farrier Books
The Principles of Horseshoeing (P3)
The #1 Resource for Raising the Standard of Horse Foot Care. This updated, expanded third edition of The Principles of Horseshoeing (P3) brings a fresh new approach to learning the vital craft of horseshoeing – and much more! Written by two experienced teachers, this invaluable resource is the most complete collection of horse foot knowledge available today. Recommended and used by leading horseshoeing schools in America, P3 is a must for the library of every farrier, veterinarian and horse owner.
This comprehensive guide to horseshoeing includes these topics and more:
Introduction to the farrier industry and how to get started
What to look for when choosing a farrier
Progressive skill levels based on a unique matrix of learning
Anatomy, tendons and ligaments, foot structure and function
Foot diseases and treatments, causes and prevention of lameness
Front and hind limb conformation and unsoundnesses
Foot skills, pad selection and application
Shoe types and sizes; hot and cold shaping of shoes
Forging fires and heats; forging tool maintenance
Business skills, goal setting and tips for success
And much more
1,000 pages; 2,350 illustrations; 3rd ed.; hard cover;
ISBN 0-916922-26-8
___________________________________________________________________
Shoeing In Your Right Mind
Shoeing in Your Right Minddetails the most innovative farrier training system available today. This powerful training method will help you get your mind "right" to succeed in the farrier business. By learning how to access the power of the right side of your brain (the visual side) to "see" better, you will become more proficient in assessing conformation, achieving balance and shoe fit, and increasing your efficiency in horseshoeing. In easy-to-follow, step-by-step detail, Shoeing in Your Right Mind teaches you the keys necessary to take your horseshoeing skills to a higher level.
This book teaches you …
Mind shifts you must make in order to get your mind "right"
reasons why you need to acquire visual thinking skills
39 specific exercises designed to help you master the five skills of visual perception
Visualization and how it can help increase shoe fitting efficiency by at least 30 percent.
This book teaches you the techniques, instruction and principles that will revolutionize farrier training in the United States and throughout the world. You'll stay on the cutting edge of the industry with the skills you learn in Shoeing in Your Right Mind.
160 pages; illustrated; hard cover; ISBN 0-916922-20-9;
___________________________________________________________________
Six-Figure Shoeing
Six-Figure Shoeing teaches you how to build a farrier business that will bring in $100,000+ a year. Creating a profitable and rewarding business is like constructing a building – it requires skill, experience and knowledge. Six-Figure Shoeing puts the essentials of running a business in a way all farriers can relate to – at any stage of their careers, including …
Current industry challenges and opportunities
Ways to advance your business knowledge
Organizational skills and systems for running your business
Strategies to market and expand your operation
What it takes to stay profitable and prepare for retirement
Keys to staying balanced while reaping the rewards of your efforts
When you spend time ON your business, not just IN your business, you'll be rewarded with much more than financial prosperity. This book shows you how. Get Six-Figure Shoeing and Get Growing Your Business!
300 pages; illustrated; hard cover; ISBN 0-918922-23-3;
___________________________________________________________________
Horse Foot Care
A Horse Owners Guide to Humane Foot CareBy Doug Butler
This book is an easy-to-understand, reliable guide for every horse owner concerned about the proper care of horses' feet. This book will help you …
Understand what constitutes quality, humane horse and hoof care.
Learn about common foot problems and diseases.
Grasp basic foot anatomy, structure and function.
Learn basic vocabulary and definitions to help effectively communicate your horse's needs.
Get tips on how to select a farrier.>
Evaluate the decision, cost and responsibility of owning a horse.
Horse Foot Care explains how the foot is a horse's foundation – and why it is important to provide proper care for the feet. The contents of this book will help you become more comfortable talking about your horse's foot care needs with your farrier and veterinarian. You'll want to keep this handy guide at your finger tips daily for quick reference to humane horse foot care and other valuable information.
90 pages; Illustrated, ISBN 978-0-916992-15-3
___________________________________________________________________
Laminitis & Founder: Prevention and Treatment for the Greatest Chance of Success provides understandable explanations and effective treatments for laminitis and founder that have eluded veterinarians, farriers and horse owners for years. With their combined experience of over 75 years of dealing with these devastating diseases, Dr. Doug Butler and Dr. Frank Gravlee present a practical, yet credible, guide for modern horse owners that is based on scientific evidence from personal research and experience. In order to choose the most effective treatment regimen for laminitis and founder, horse caregivers must …
Understand the predisposing cause
Determine the stage of the disease
Decide on a mode of action, and
Learn how best to prevent future attacks.
Laminitis & Founder: Prevention and Treatment for the Greatest Chance of Success identifies edema of the laminar tissues and sublaminar tissues as a cause of laminitis and founder. The book emphasizes that swelling must be reduced to prevent further damage to the sensitive foot tissues; that the damaged structures must be supported so the body can repair them; and that the destroyed tissue must be rebuilt by feeding the horse a balanced diet that includes nutrients that support dermal tissues. This book provides the foundation for horse owners, farriers, and veterinarians to work together for the good of the horse. Co-authored by Dr. Doug Butler and Dr. Frank Gravlee.